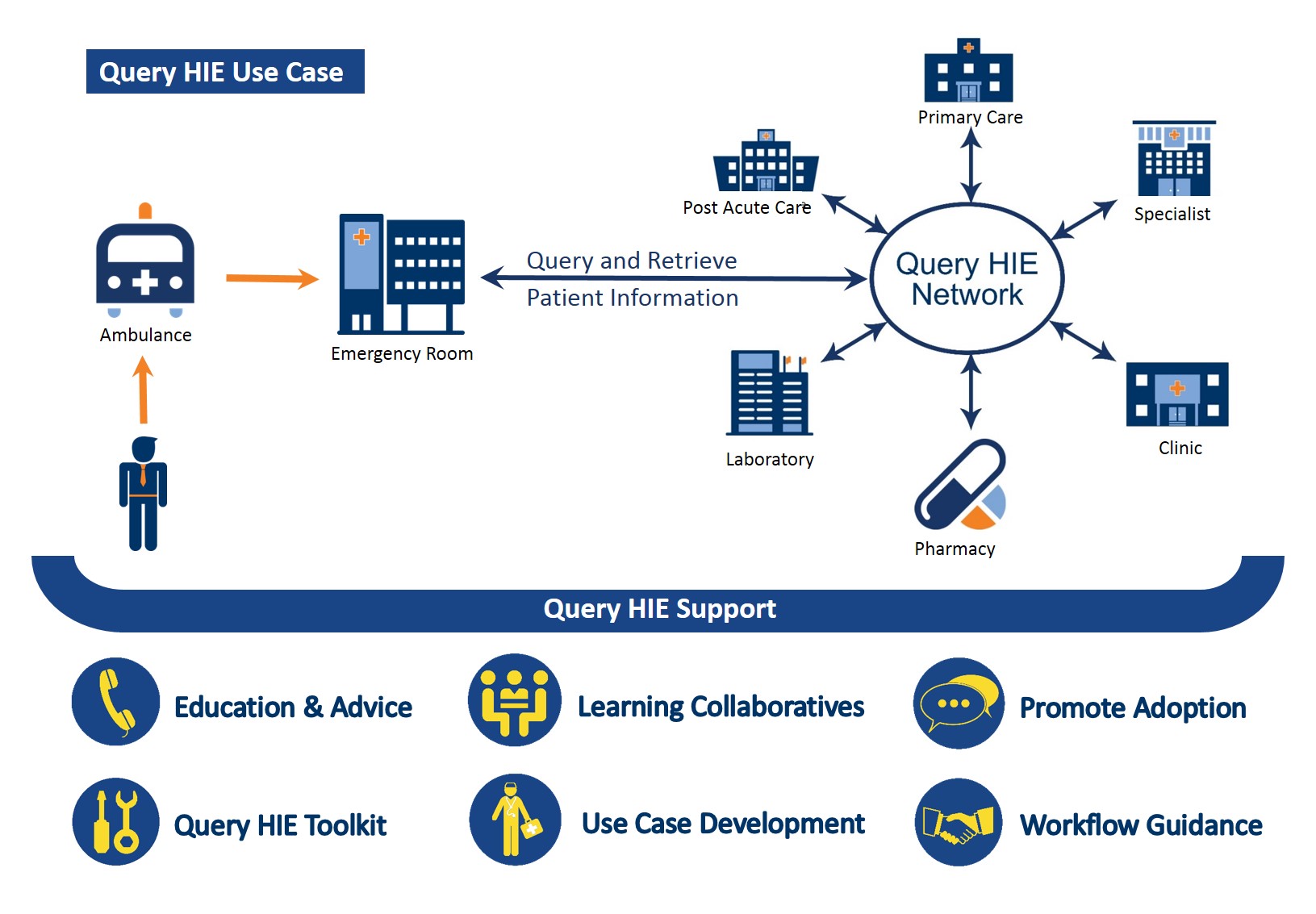 Query HIE enables care providers to search for and retrieve patient information from other providers who serve the same patient. Care providers who participate in Query HIE make their patient information accessible to other providers via a Query HIE Network. The network provides the functionality to make the information accessible, searchable, and retrievable.
The information in a Query HIE Network becomes accessible when the data is produced and cleared for access. Other providers who then later serve the same patient can query (search) and retrieve the information via the network.
How Query HIE works is described in detail in the Query HIE Toolkit. To access the toolkit, click here.
When to Use Query HIE
Query HIE enables providers to obtain a patient's health information in cases where they need to provide unplanned care without a referral. For instance, when a patient visits an emergency room, makes an appointment with a specialist without a referral, or seeks a second opinion.
The method can also be used to find additional health information for patients when providing planned care after a referral. For instance, information sent by a referring physician via Direct Messaging may paint an incomplete picture of a patient's health status. This can happen when a patient received care from other providers who, for whatever reason, didn't coordinate their care with the physician.
Request Query HIE Assistance
The Mass HIway offers Query HIE Assistance to guide care providers in the adoption and utilization of Query HIE through our HIway Account Management, Outreach, and Education efforts. These services include:
To request Query HIE Assistance, to contribute to the development of new Query HIE tools, or to assist in the effort to spread the utilization of Query HIE, contact the HIway Account Management team via the Contact Us options provided below.
* For a Query HIE Network to function well, the network needs to connect many care providers, and preferably nationwide as providers may see patients who need unplanned care while traveling. As explained in the Query HIE Toolkit, an extensive nationwide network is already available via the interconnected Commonwell and Carequality initiatives. The HIway will therefore not develop its own network.