Once you enroll in HAUS Services, a HIway Account Manager will be assigned as a project resource to assist your organization with incorporating HIE into your care coordination process. This includes assistance with project management, development of HIE Use Cases, selection of a suitable HIE connection, and design of new workflows. The flow of a typical HAUS project is shown below.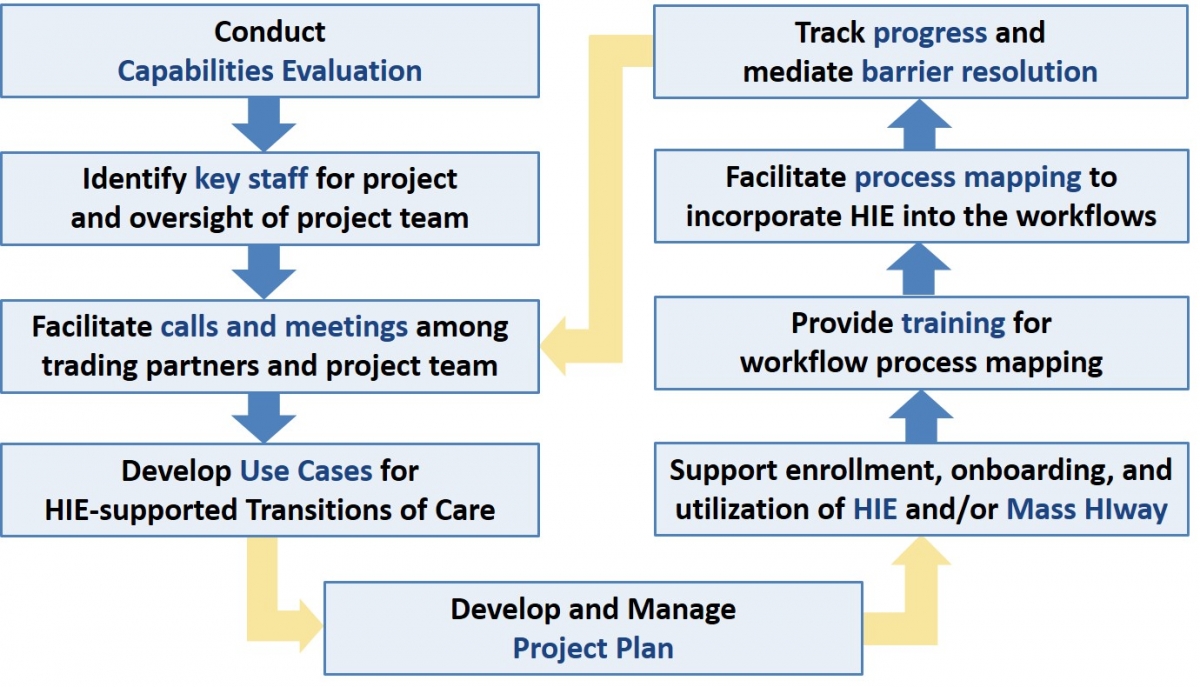 The Account Managers guide you in every step of the way through project management, advice, and assistance, which includes:
Conducting a Capabilities Evaluation to assess the technical connectivity requirements and gaps.
Identifying key leadership and staff members to be involved in your project plan.
Developing HIE Use Case goals and selecting an HIE solution based on the HIE Use Case Planning Form.
Developing and managing a project plan.
Enabling your connection to the Mass HIway, if you choose to use the HIway as your HIE solution.
Facilitating the development of new workflows through training and process mapping.
Tracking progress to mediate the resolution barriers that may be encountered.
These steps and activities are detailed in the pages listed in the submenu displayed on the left side of this page.
Project Planning
Your HIway Account Manager will provide project planning support to both your organization and the partner organizations that participate in the project. This includes developing and managing a project plan.
The project plan will cover the tasks that need to be executed to establish a successful HIE process. The Account Manager will customize the plan as necessary to make it fit the scope and boundaries of your project. The planning involves tasks such as:
Identifying key members for the project team, and oversee that project team.
Facilitating calls and meetings between the organizations involved.
Assisting the coordination with vendors that may need to contribute to a successful outcome.
Developing and managing a project plan.
Providing ongoing progress tracking to identify potential issues and solutions.
Project Meetings
To further facilitate project progress, your Account Manager will assist you in assembling a project team, and will organize kickoff and recurring project meetings with the team. The objectives of these activities are described in the graphic below.